Oh lordy, feeling the physical strain this week.  The 25 week milestone has brought more fatigue and lots of belly / ligament pain.  Any item of clothing that sits under my bump is just torturous, read: I actually purchased an item of maternity clothing this week!  A lovely stretchy maxi skirt from Patch that I'm sure I will wear all winter, even after bubba arrives.  I am happily keeping up with all of Ethan's commitments and work, Dave and Mum are a big help, but the notorious baby-brain I suffered with Ethan is back with a vengeance.  I recycled a bunch of vouchers I had been sent as giveaways for the blog!  Oh the shame of typing that email.
Mainly I just feel so excited.  Every time I look in my rear vision mirror I have to remind myself that in 15 weeks there will be a little baby cruising around back there, though it's surprising this ever actually slips my mind as the child is constantly ninja-ing my insides.  I am a wee bit scared that baby is going to be ginormous.  At my last midwife visit I was measuring two weeks ahead so it will be interesting to see if this has changed at my appointment next week.
By the way, do you love this top as much as me?  Bargain of the year, nicely spotted by me a The Warehouse for $20!  The other colour-ways were quite ugly, which is actually fortunate as I would have bought them all if they were half decent!  A perfect bump-coverer in comfy cotton spandex.
Shirt: Maya @ The Warehouse $20
Skirt: The Gap
Necklace: The Warehouse
Shoes: Superga Polka Dot Sneakers
Dog cameo: Louie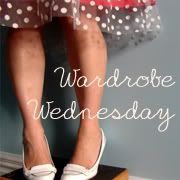 Comments
comments